OUR TOP 6 COCKTAILS TO DRINK AT HOME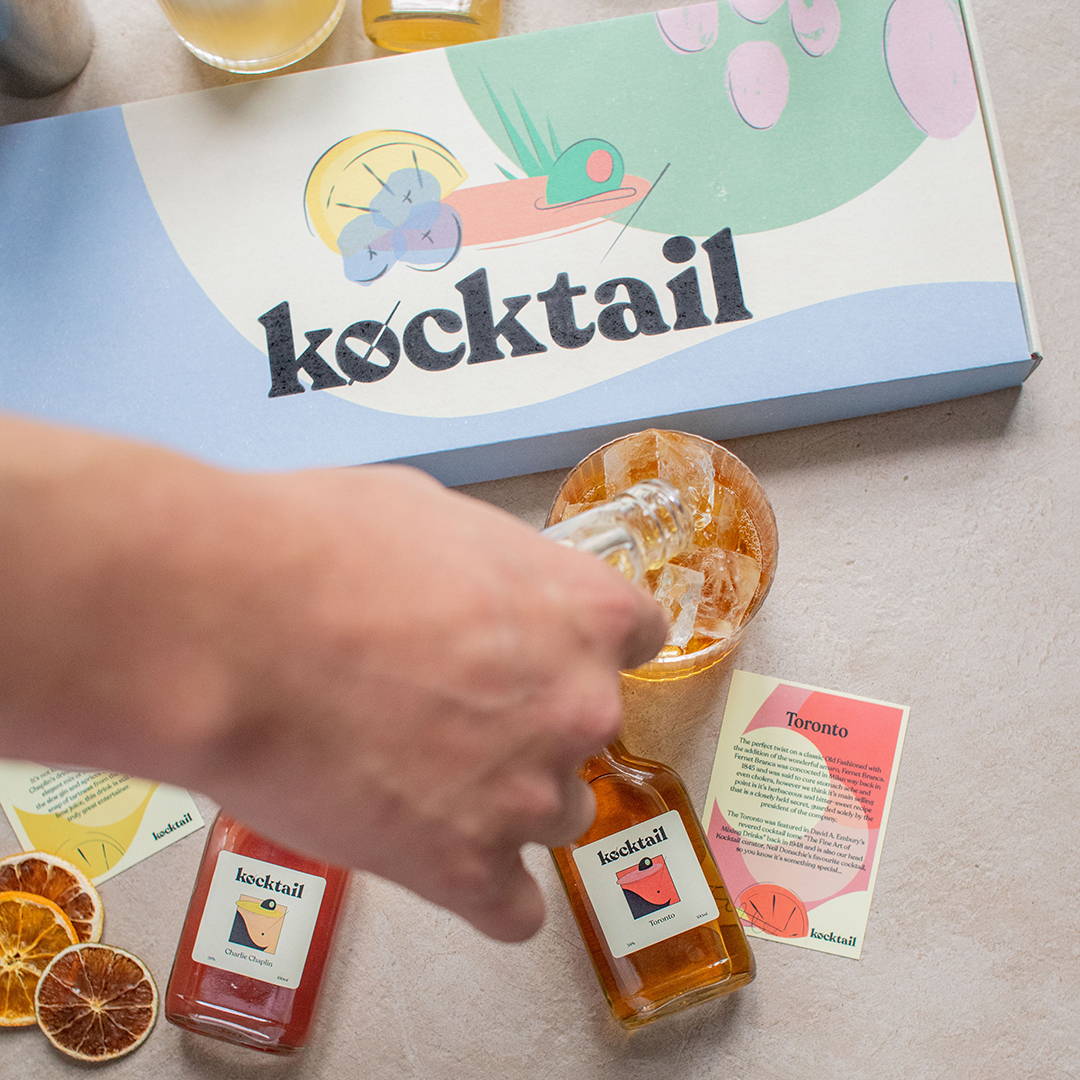 6 Top cocktails chosen for you by our International Award-Winning mixologist!
After visiting plenty of the world's greatest cocktail bars over the last decade, we knew we wanted to offer that same experience of beautifully crafted, world-class cocktails in our own homes and with the minimum of fuss.
So we teamed up with our great friend and international award winning barman Neil Donachie - as pretty much all of the best cocktails we've ever had the pleasure to drink, were mixed by his magic hands!
Neil has put this list together of the Top 6 Cocktails To Drink At Home, so you can discover a few new favourites...
With Kocktail you can experience that same quality of beautifully fresh cocktails in your own home and with the minimum of fuss. Savour world-class, hand crafted, cocktails from the comfort of your home each month. That's why we created Kocktail.
We send out 4 new cocktails each month, giving you the opportunity to discover some of the best cocktails in the world.
"I Love Kocktail! I have discovered so many new favourites through the club. I can't wait to get my next order."
- Anna H.
⭐⭐⭐⭐⭐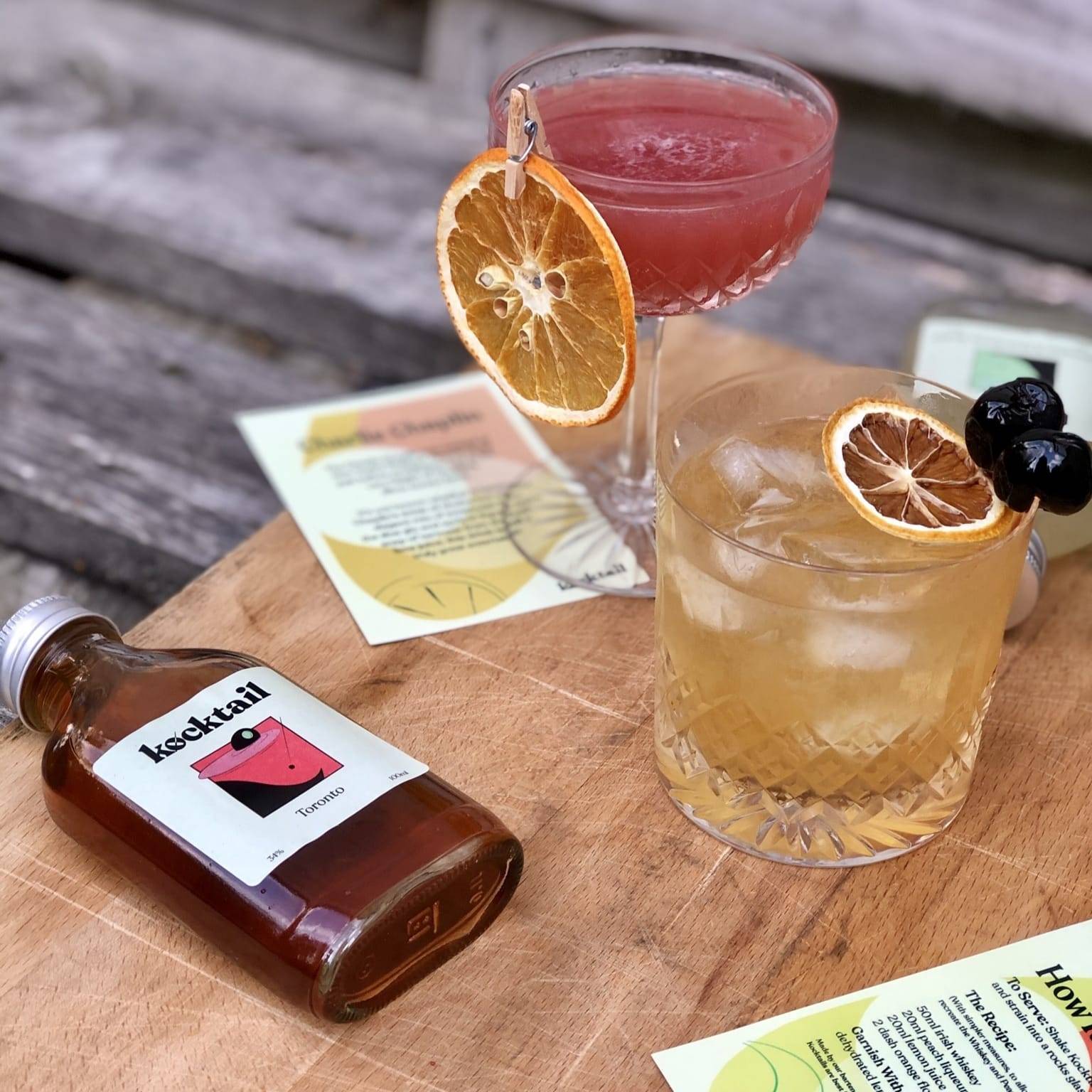 ---
1. BANANA HAMMOCK
From it's disputed creation by either restauranteur "Trader Vic" or the American adventurer, rumoured bootlegger and proponent of US Tiki Culture, "Don The Beachcomber" in California way back in 1930s and 1940s, the Mai Tai has found itself comfortable in the world's best beach-side bars and pool parties alike.

That is until Dan Greenbaum of Attaboy, our favourite NYC bar, decided to swap the liqueur from orange to banana, adding a caramelised depth and surprisingly sophisticated edge to this classic Rum drink.
Ingredients: White rum, Lime, Almond & Banana. Shaken and strained into a rocks glass with ice.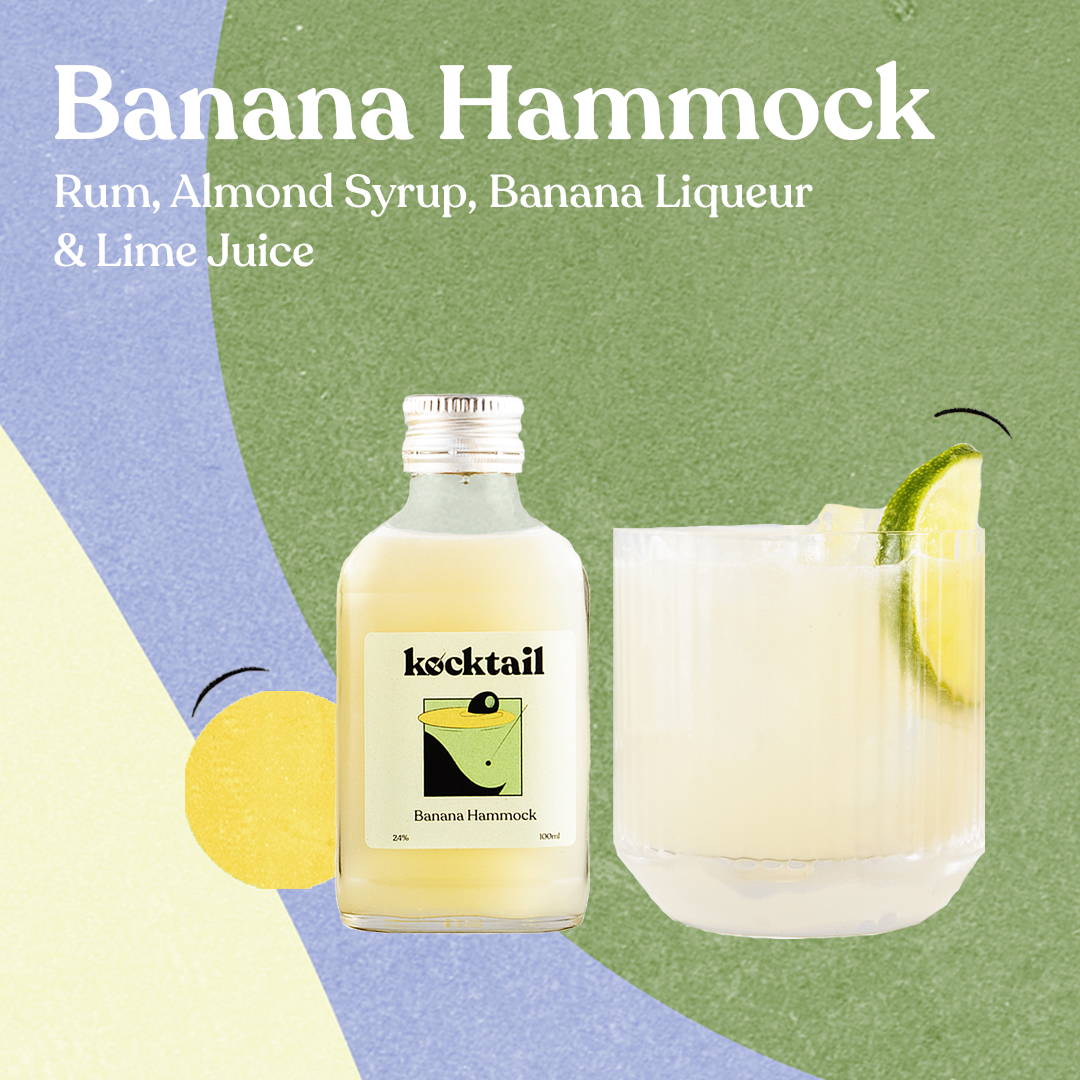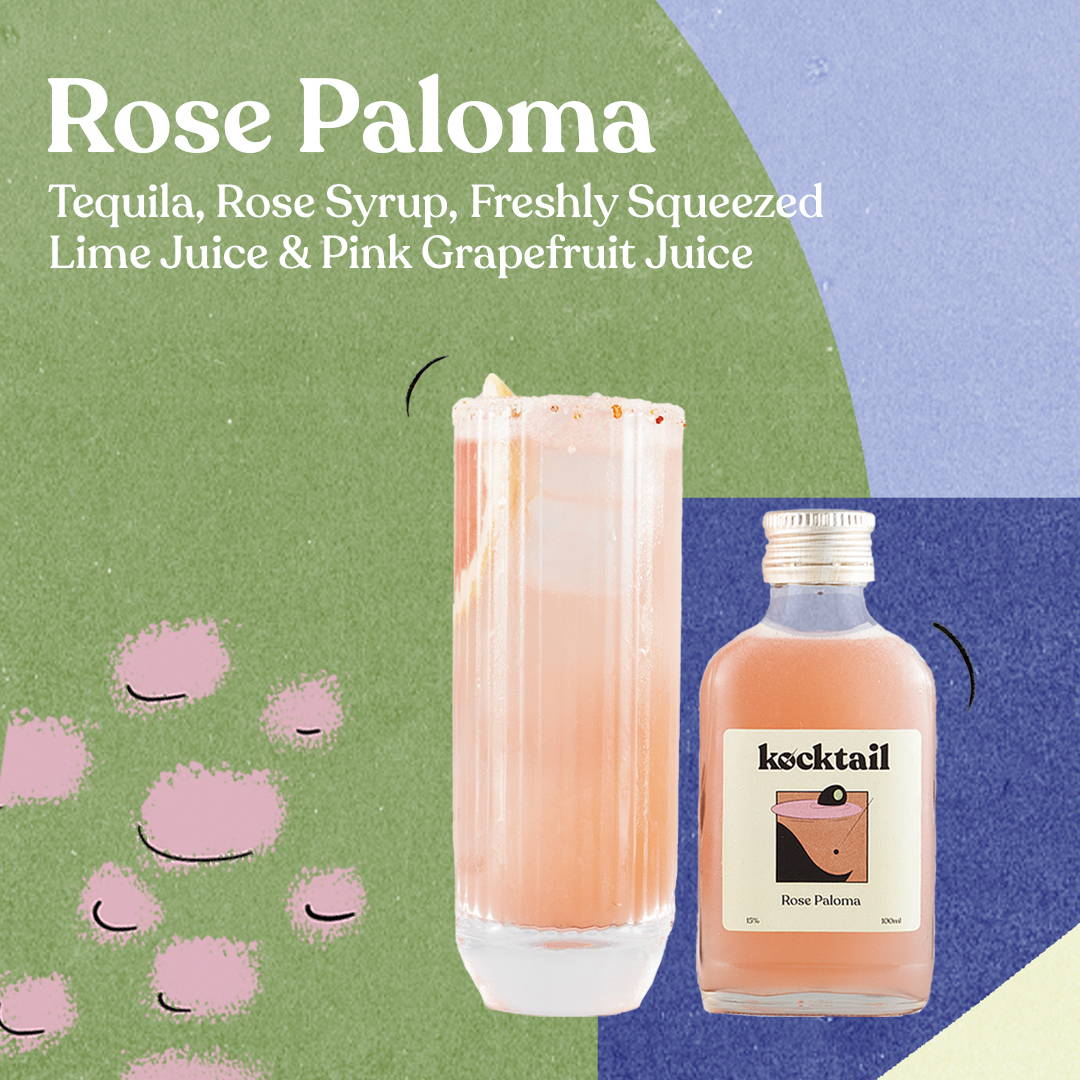 2. ROSE PALOMA
This twist on the classic Paloma is from the mind of our award winning Kocktail Curator, Neil Donachie. Neil has added the delicate essence of rose petals to this revered Mexican Tequila cocktail, allowing this long, fruity and refreshing drink to open up it's magical powers outside of Mexico and bring some Jaliscan sunshine into your home.
Ingredients: Tequila, Pink grapefruit, Rose, Orange flower, Soda. Poured and topped into highball glass.
3. CUCUMBER & ELDERFLOWER RICKEY
The Rickey is a classic Highball variation originally created for the Missouri born Democratic Lobbyist Colonel Joe Rickey, whilst at Shoomaker's bar in Washington DC in the 1880s. It was simple but refreshing mix of Rye, Soda and Lime but the drink really became a classic when the Rye was substituted for Gin shortly after.
Over a century later, our head cocktail curator Neil Donachie presents his spin on the classic, with a hyper seasonal take on this warm weather libation, with the addition of refreshing Cucumber and Elderflower.
Colonel Joe Rickey was rumoured to be annoyed he might be remembered for his namesake drink rather than his diplomatic legacy. It turns out he was probably right to be worried…
Ingredients: Vodka, Cucumber and Elderflower syrup, Lime, Soda. Poured and topped into highball.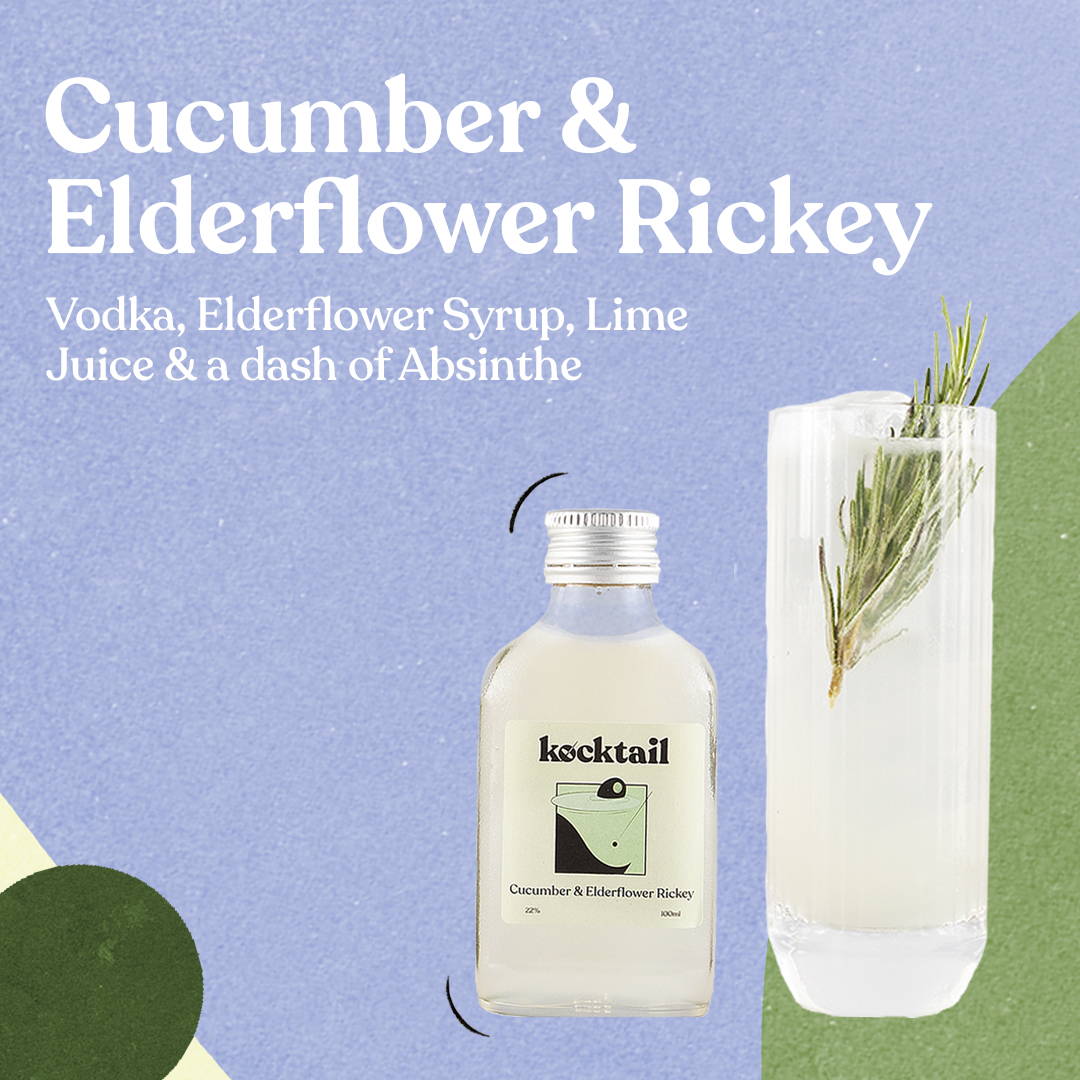 4. CHARLIE CHAPLIN
The Charlie Chaplin was created at New York's Waldorf-Astoria Hotel just before prohibition and at the very height of Chaplin's silver screen fame.

It's not known whether it became Chaplin's drink of choice but with it's elegant mix of sweetness from the Hayman's Sloe Gin and Apricot Liqueur and a snap of tartness from the freshly squeezed lemon juice, this drink is still a truly great entertainer.
Ingredients: Sloe Gin, Lime, Apricot liqueur
5. WHISKEY & PEACH
The Whiskey Peach is a cocktail that celebrates the wonderful marriage of unlikely bedfellows. In this take on a Whiskey Sour, the rich and aromatic Scotch is highlighted and complemented by a punctuation mark of sweet and velvety summer notes provided by it's new companion, the delicate skinned but proudly bold Peach, in the form of the excellent Briottet Peach liqueur.

Often a simple and seasonal take on a classic can lift the spirits within both the cocktail and one's self.
Ingredients: Scotch, Lemon, Peach liqueur. Shaken and strained into a rocks glass with ice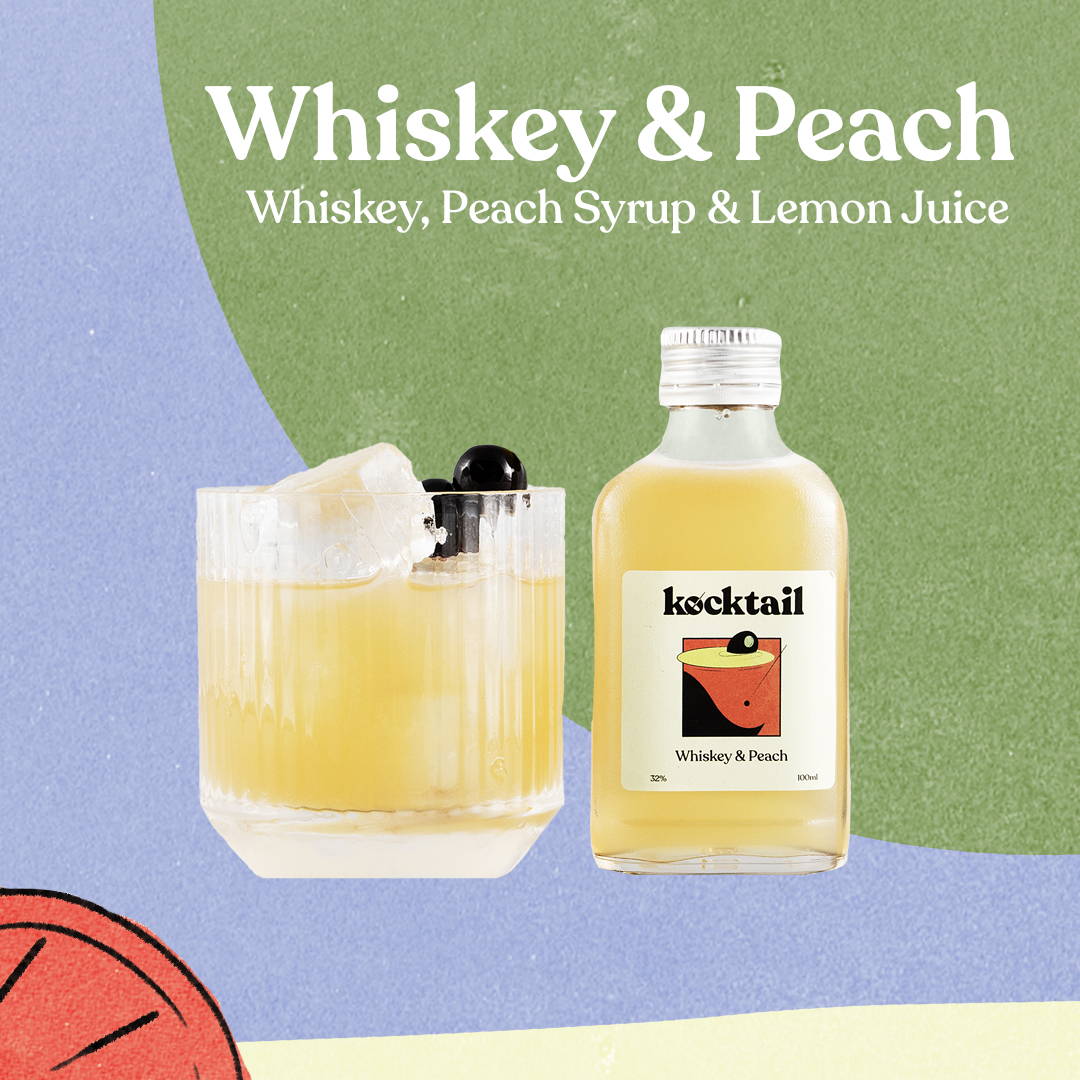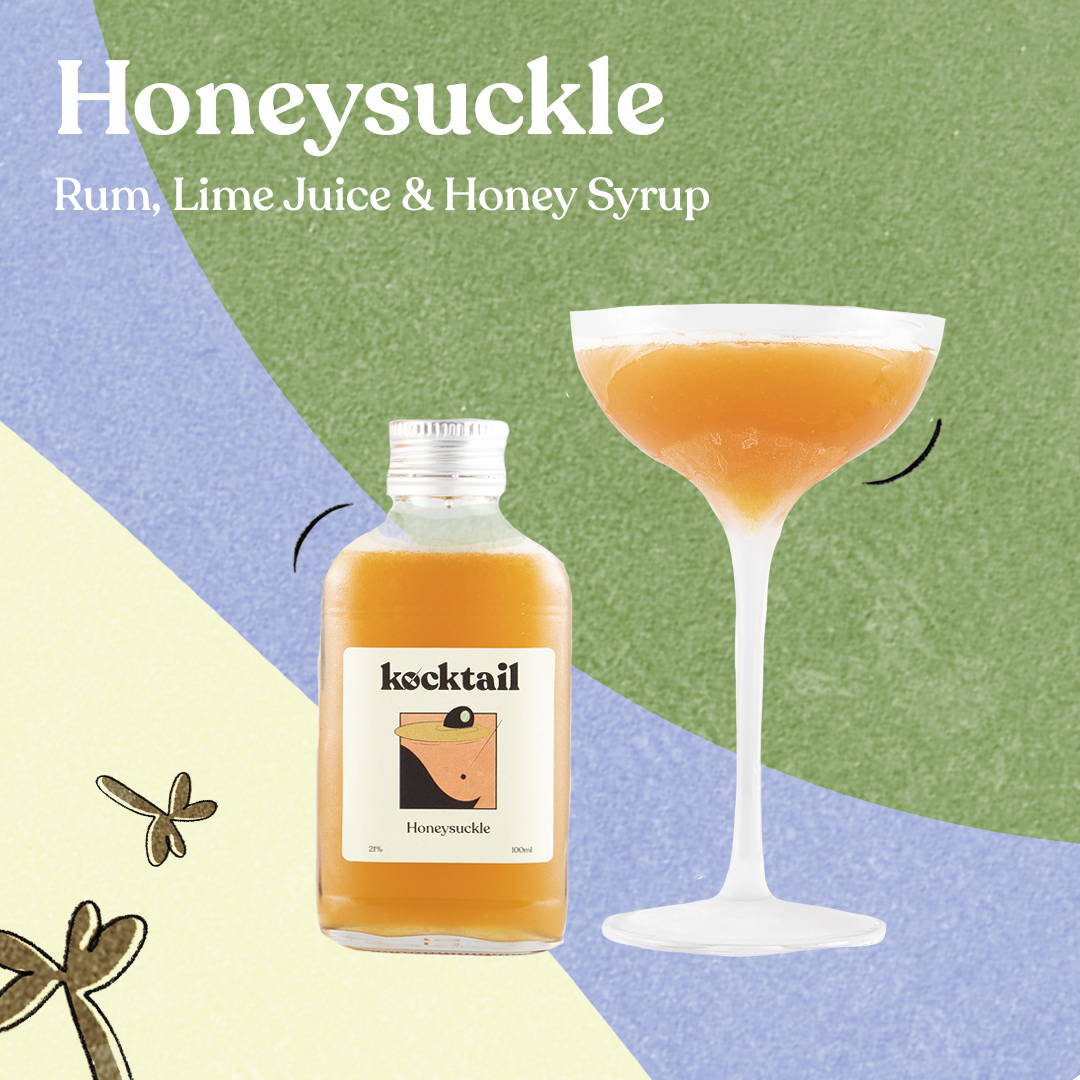 6. HONEYSUCKLE
They say success has many fathers… The Honeysuckle is claimed as the offspring of at least two classic Cocktail dynasties. One origin story stems from the esteemed Rum Daiquiri family, with the substitution of the Daiquiris' simple syrup, for some beautiful honey to provide a subtle floral sweetness.
The other cocktail with a claim on the heritage of the Honeysuckle is the Bees Knees, which already features the honey and lemon juice, but with Rum tagging in, in place of the Bees Knee's Gin base.
Whichever way you look at it, the Honeysuckle would be the favourite child in most families!
Ingredients: Dark rum, Lime, Honey. Shaken and strained into martini glass
---
What our customers say...
---



---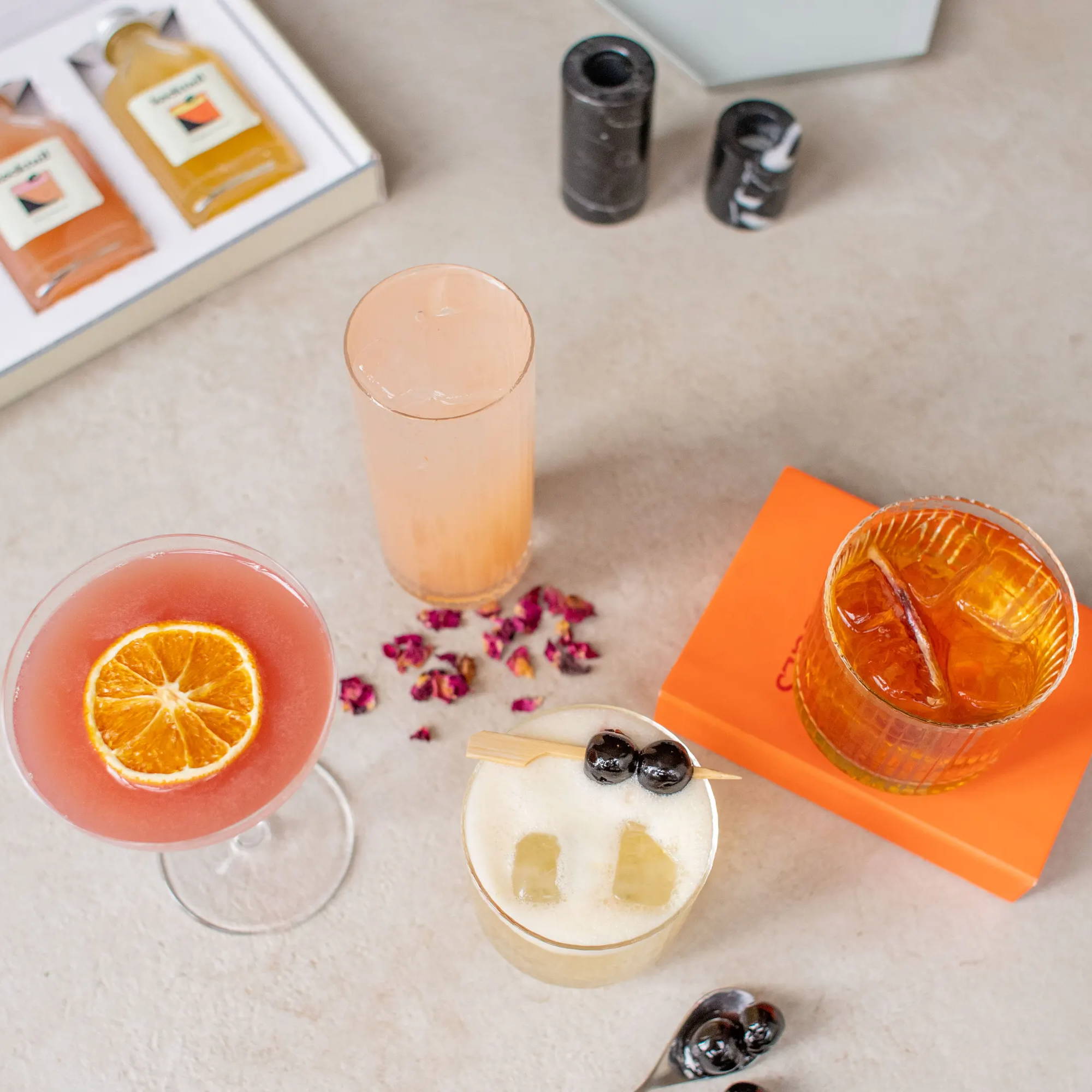 All of our cocktails are expertly mixed by our professional bartenders using only the finest ingredients from world-class producers and we pride ourselves on using beautiful local ingredients wherever we can.
Your Kocktail box will include a pack of stunning garnishes to help you make your drink look truly delectable and we'll add some information on all of our drinks, as knowledge is power...
Join our cocktail subscription club to savour four world-class, hand crafted, bottled cocktails from the comfort of your home each month.