MARCH 2022 - What's In The Box?
---
Peach and Hibiscus Spritz
50ml rose wine

10ml Campari

10ml Aperol

20ml peach and hibiscus syrup
Pour over ice and top with soda.
Garnish: Orange slice
Can be found in this month's: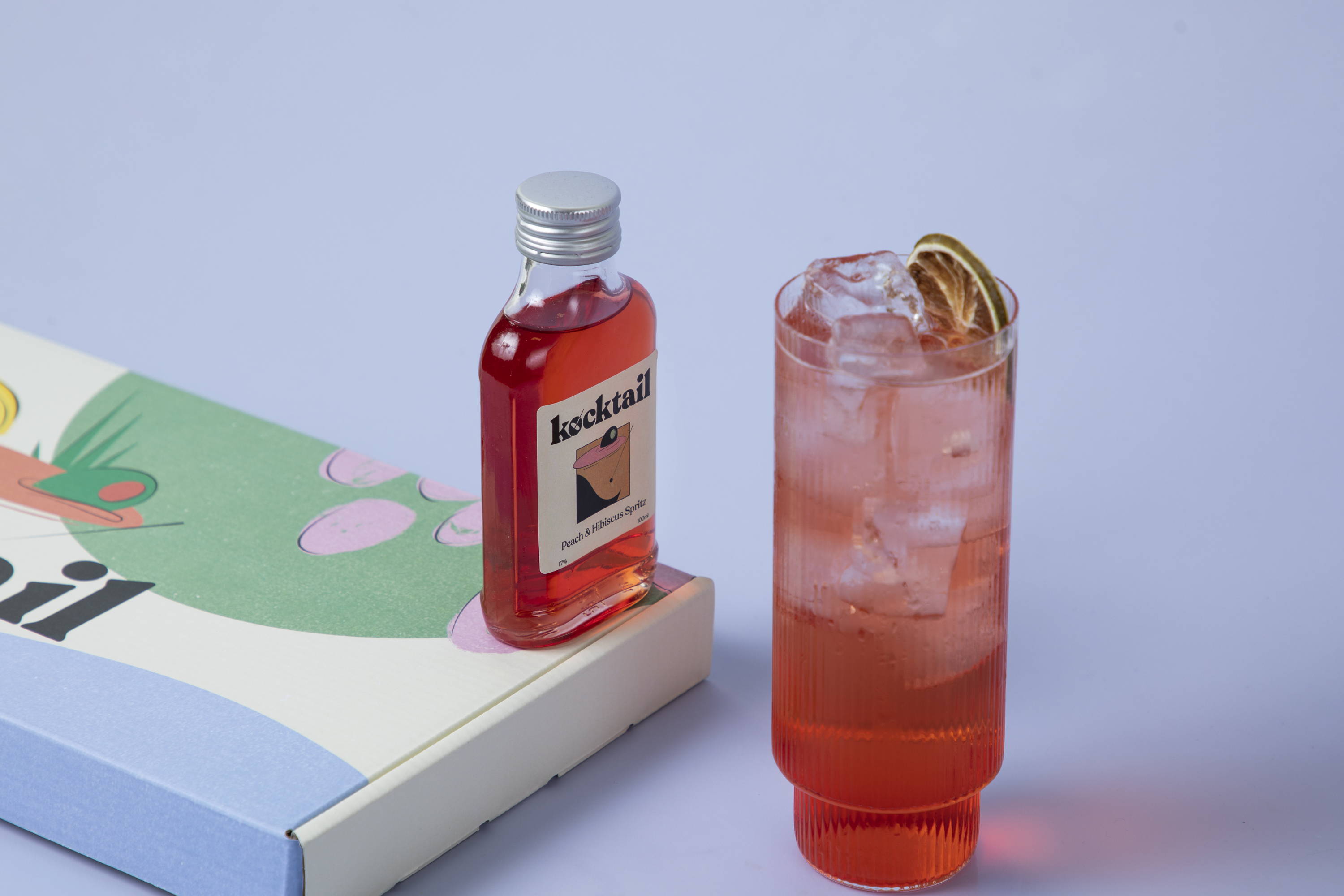 Our Peach and Hibiscus fizz is an ode to the first flushes of love…
In Hawaii the Hibiscus flower is used to signify beauty and when placed behind the ear, the flower can also symbolise the wearer's availability for a romantic relationship.
This delicate fizz bursts with life and sweetness, with the hibiscus taking the front foot in the relationship and the slightly more coy peach adding it's soft and silky notes to create a partnership that will surely stand the test of time.
---
Casablanca
40ml White Rum

25ml Lime juice

15ml Cointreau

15ml Maraschino

1 dash foamer
Shake with ice and strain into a coupe glass.
Garnish: Freeze dried cherry powder
Can be found in this month's: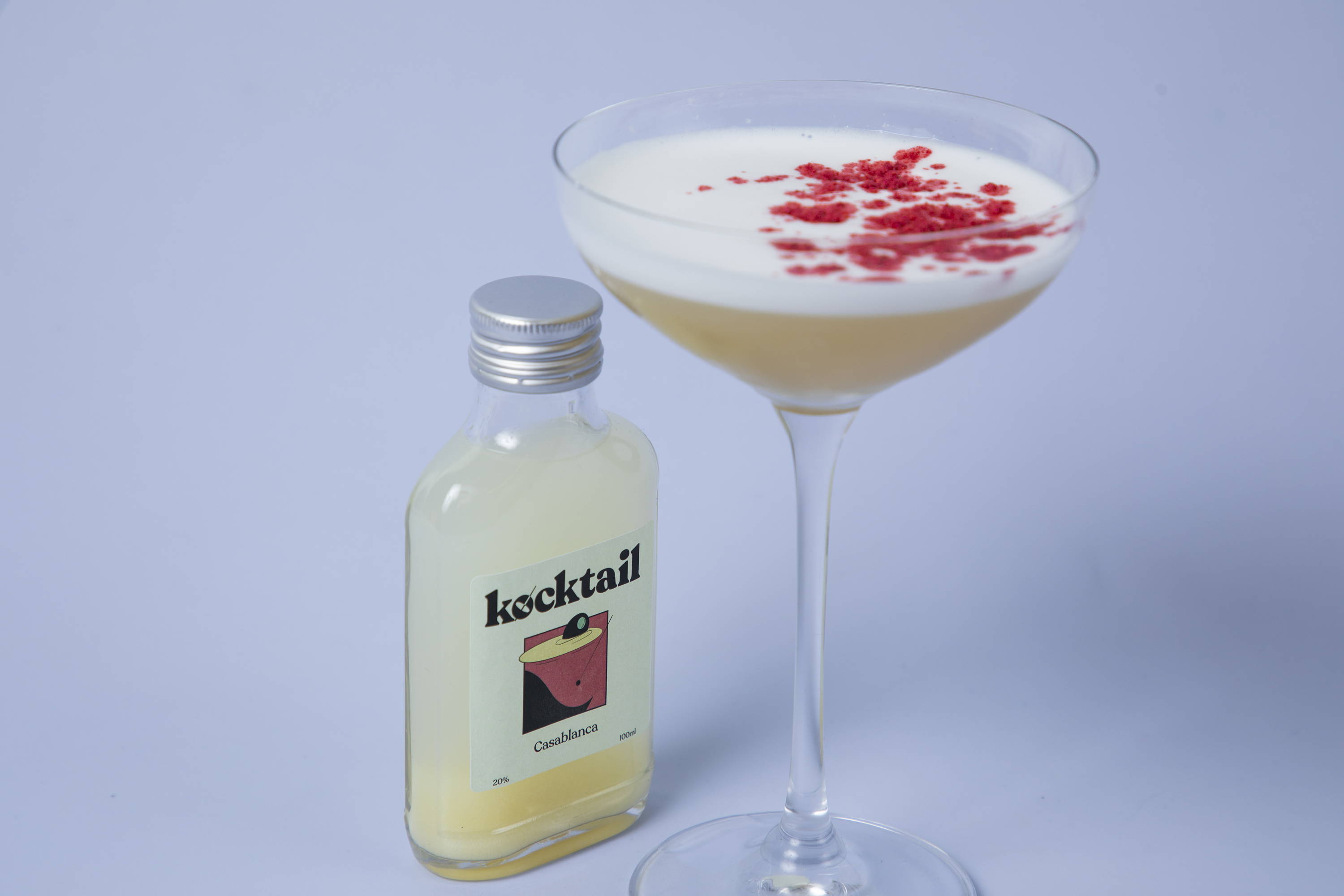 Named after possibly the best "cocktail" movie of all time, Michael Curtiz's 1942 classic 'Casablanca', starring Humphrey Bogart and Ingrid Bergman. This rum based take on the White Lady is the perfect tipple to transport you back to Bogie's famous gin joint in the beguiling Moroccan port town.
This boozy take on the White Lady replaces the gin with white rum and adds a splash of Maraschino cherry liqueur to the original recipe of lime juice and triple sec.
Whether you desire adventure, romance or just a great drink, it's the perfect cocktail to fly away with…
---
Fort Lauderdale
40ml Gin

15ml Campari

15ml Apricot Liqueur

20ml Lemon

15ml Orgeat (contains nuts)
Shake and pour into a coupe glass
Garnish: Orange wheel
Can be found in this month's: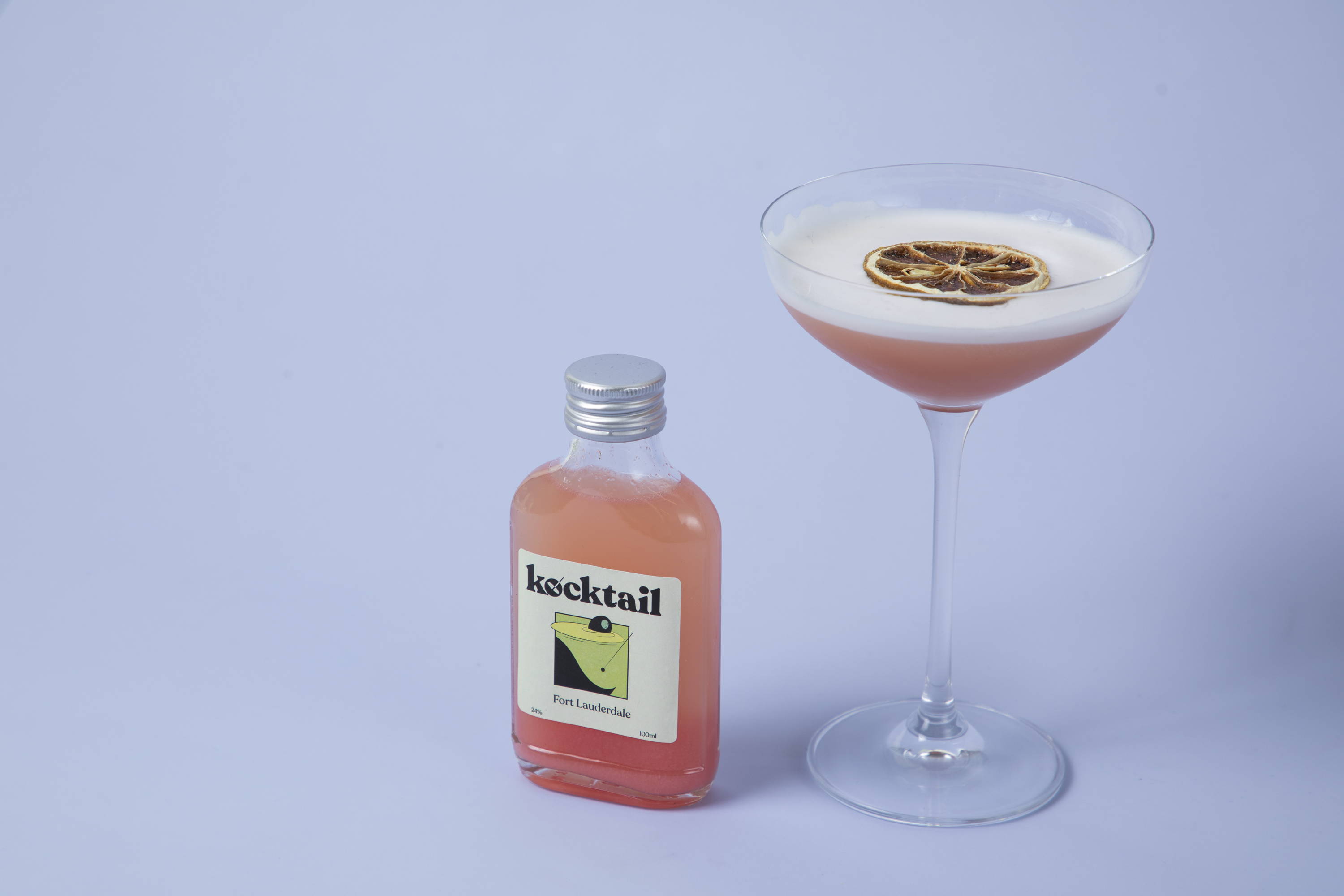 The city of Fort Lauderdale is to be found in the tropical South of Florida - almost as far south as south goes in the United States. The city's reputation was marred by the the hordes of "spring breakers" visiting every summer during the 1980s for cheap drinks and sandy beaches...
However, if you take few steps away from the crowded beaches and gaudy premium cruise ships that have recently made the port a temporary home, you'll find the defiantly interesting and diverse town that the locals refer to as Fort Laudy Daudy, a small city of independent shops, coffee roasters and great places to eat.
The cocktail's blend of gin, campari, apricot liqueur, fresh lemon juice and the rich almond syrup, orgeat creates something that lands between a tiki classic and a Bitter Mai Tai.
A perfect glass of sunshine with just a splash of bitterness - it's the perfect drink to transport you to this beach town of contrasts
---
Lychee & Lemongrass Rickey
35ml Hepple Gin infused with Mint

10ml Lychee liqueur

25ml lime

15ml lemongrass syrup
Pour over ice and top with soda
Garnish: Lime wheel 
Can be found in this month's: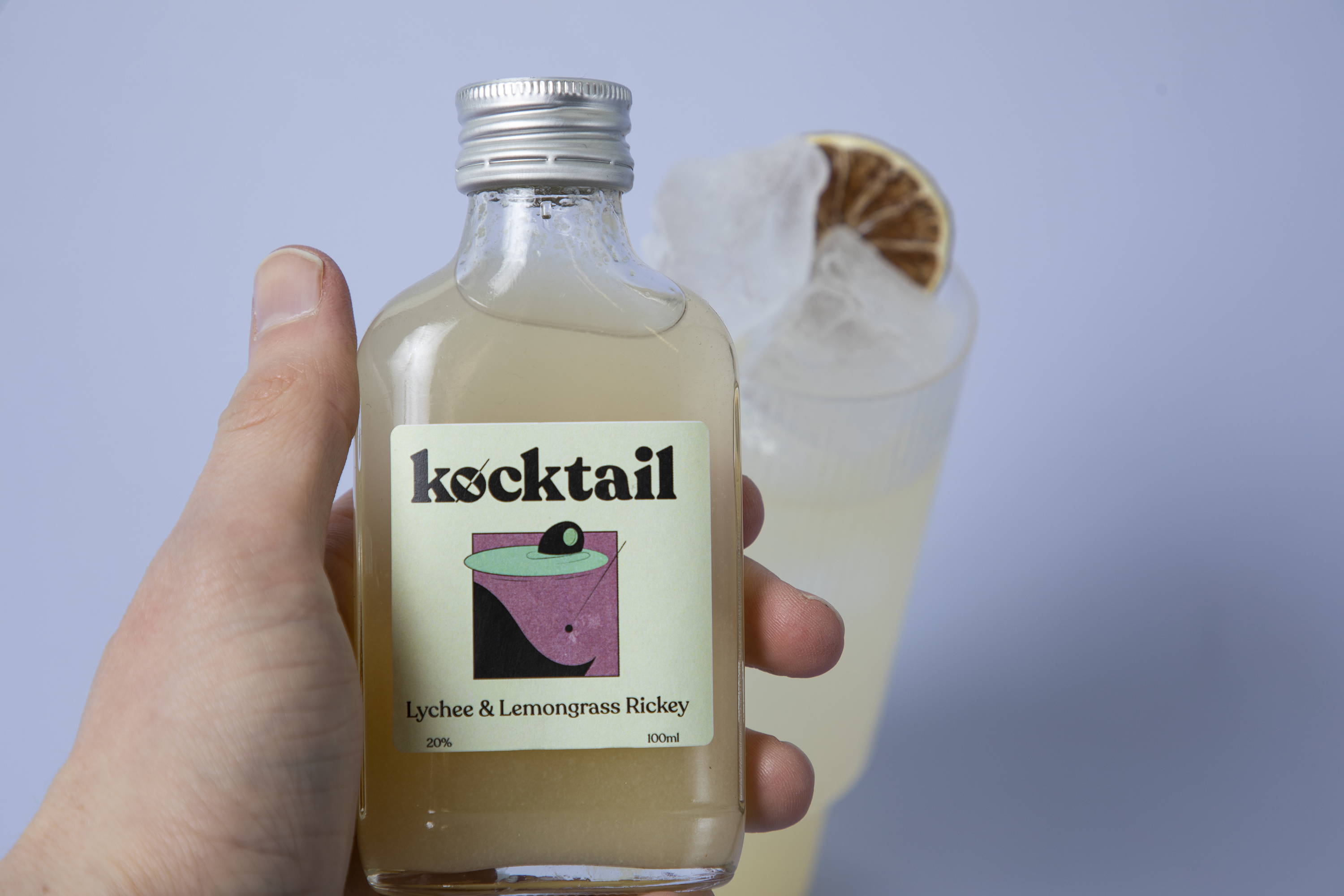 The Rickey is a variation of the Highball family of cocktails, which were originally created for the Democratic Lobbyist Colonel Joe Rickey, whilst he was enjoying a drink at his regular haunt, Shoomaker's bar in Washington DC at the end of the 1800's. Originally made with rye whiskey at their core, Rickey's are now mostly made with gin and we're proud to use Northumberland's world class Hepple Gin as the base for our Lychee and Lemongrass Rickey.
Colonel Joe Rickey was rumoured to be annoyed he might be remembered for his namesake drink rather than his diplomatic legacy. It turns out he was probably right to be worried…
---
Ward Eight Cocktail
40ml Bourbon

25ml orange juice

10ml lemon juice

15ml grenadine
Shake with ice and strain into a rocks glass
Garnish: orange slice
Can be found in this month's:
Boston, Massachusetts is split into eight electoral wards and back in the late 1800s the Democratic political czar Martin M. Lomasney hoped to win one of the seats in the state's legislature, after decades of profound influence in the area's politics.
It's rumoured that Lomasney may have bought his seat by issuing ballots pre-marked with his name to the areas residents. The bar staff at Boston's famous gilded-age bar the Locke-Ober were so sure of Lomasney's forthcoming success that they were said to have created the recipe for this cocktail to celebrate his win before the ballot had even opened.  
Fortunately for Lomasney, he did indeed win the seat. Fortunately for us, this take on a whiskey sour with the addition of orange juice and grenadine in place of the sugar syrup was the enduring legacy of his supposedly ill-gotten win…
---
Lion's Tail
45ml Bourbon

25ml Lime

15ml Pimento Dram

10ml Sugar Syrup
Shake and serve in a chilled coupe glass
Garnish: Lime Wheel
Can be found in this month's: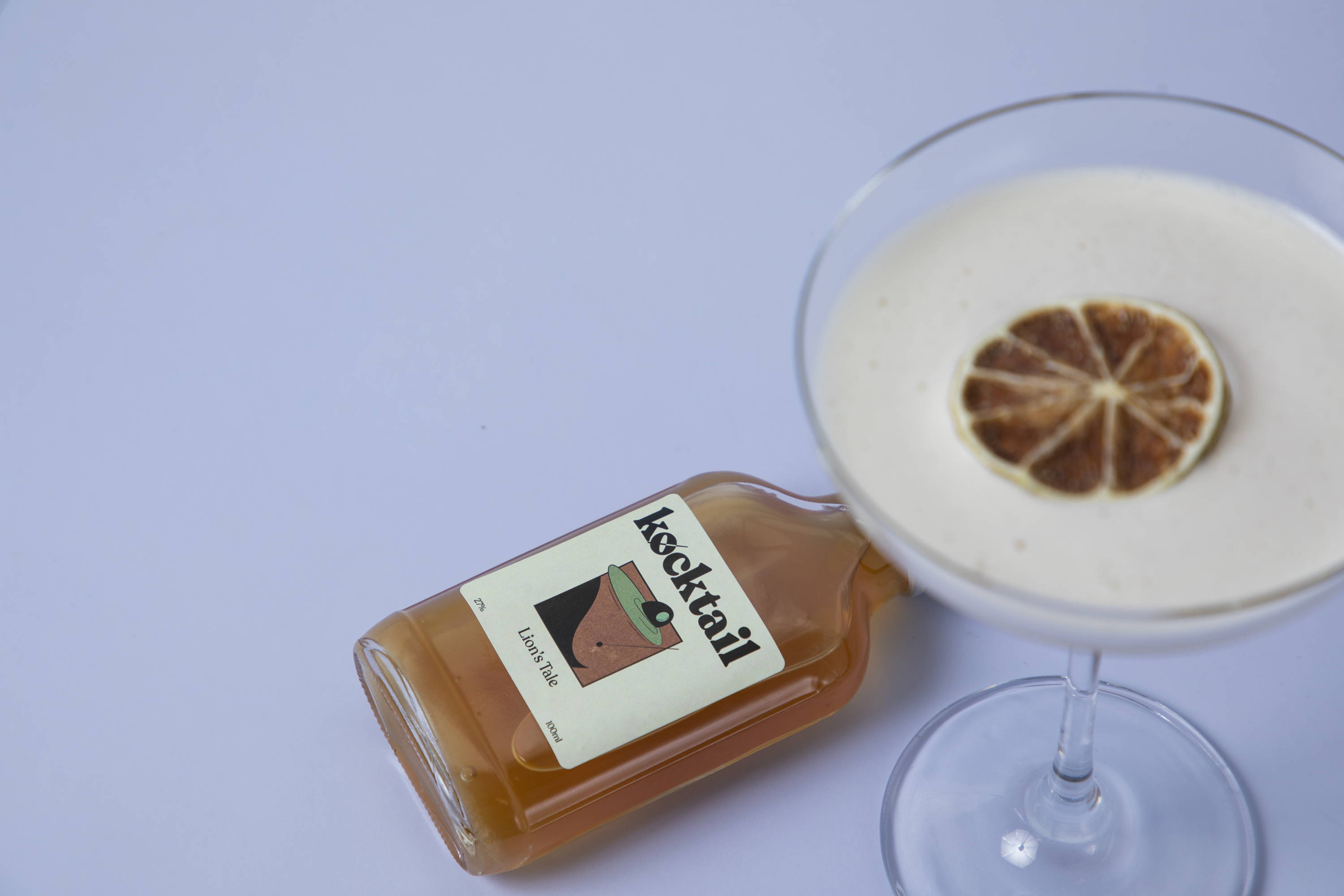 In the interwar period, despite the growing "special relationship" between the US and the UK, there was a peculiar form of anglophobia amongst the American public. We can't imagine why our friends across the pond would want to tease us but they did indeed and the term "twisting the lion's tale" became a commonly used phrase for chastising the British.
Perhaps the Yankees were upset that we weren't under the restrictive rules of prohibition that were enforced in the states at the time and indeed, many American bartenders took the hop, skip and a jump over the Atlantic to pick up their shakers on British soil and get back into business.
This bourbon and pimento (all spice) heavy cocktail was most likely invented by one of these visiting bartenders sometime in the 1930s and was then codified in the Cafe Royal Cocktail Book in 1937.
---
Bedtime old fashioned
50ml Chamomile infused Bourbon

10ml honey syrup

3 dash orange bitters
Simply pour into an ice filled rocks glass
Garnish: Lemon wheel
Can be found in this month's: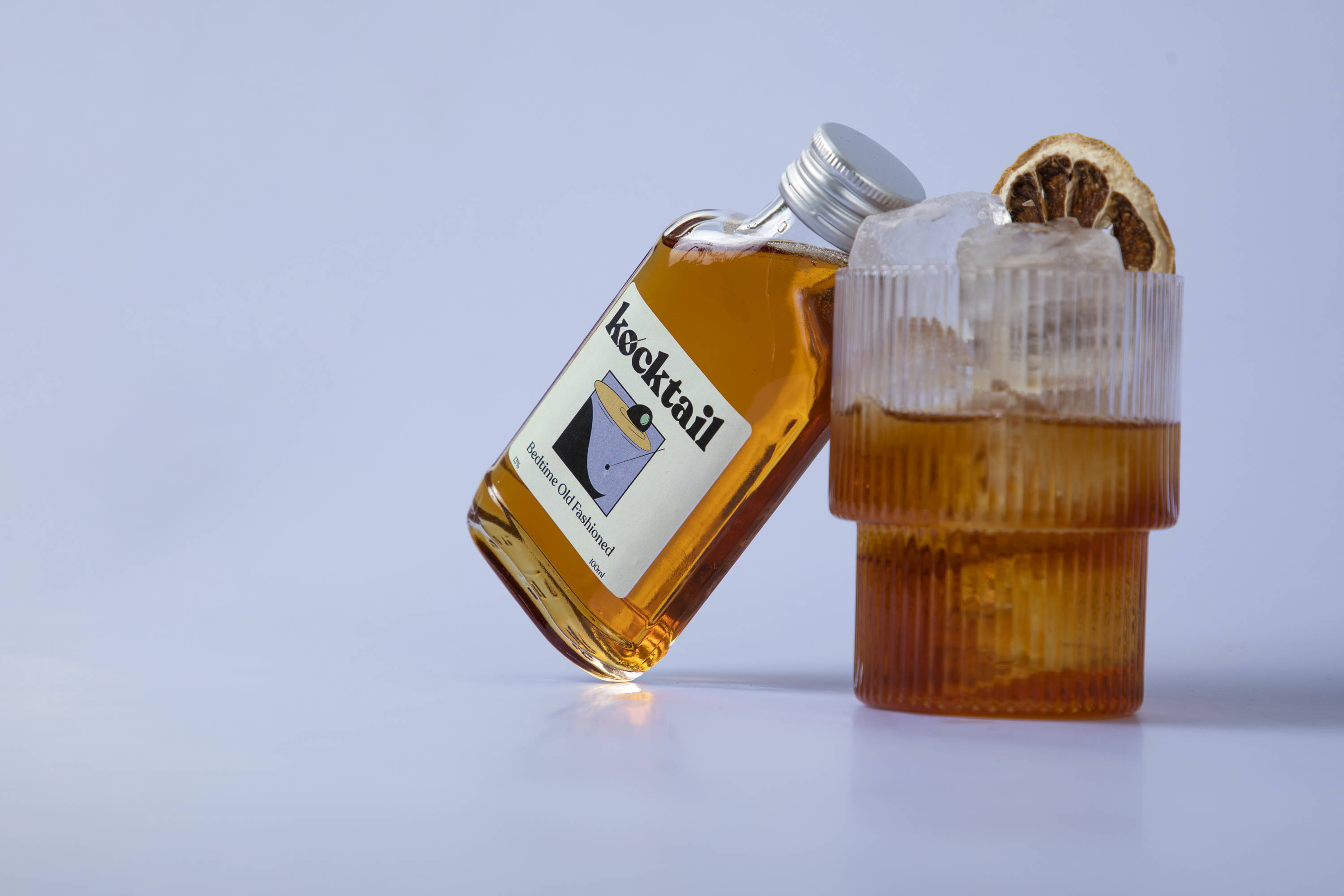 Chamomile has been used for its relaxing properties and delicious light, herbal, apple tinged flavour for many thousands of years. The ancient Egyptians used it to "cure" fever, the Spanish utilised it in the production of sherry and it was one of the main ingredients in English beer during the Middle ages, until hops took over as the favoured bittering agent.
It was even utilised by Peter Rabbit's dear old Mum after he returned shaken, from a visit to Mr McGregor's vegetable garden.
Our Kocktail Curator Neil Donachie has utilised it's delicate flavour and calming properties in this Bedtime Old Fashioned made with Buffalo Trace Bourbon… We think it's the perfect nightcap!
---
Rum Sundae
40ml Aged Rum

25ml lime

15ml cacao liqueur

15ml banane liqueur
Shake and serve in a chilled martini glass
Garnish: Maraschino cherry
Can be found in this month's: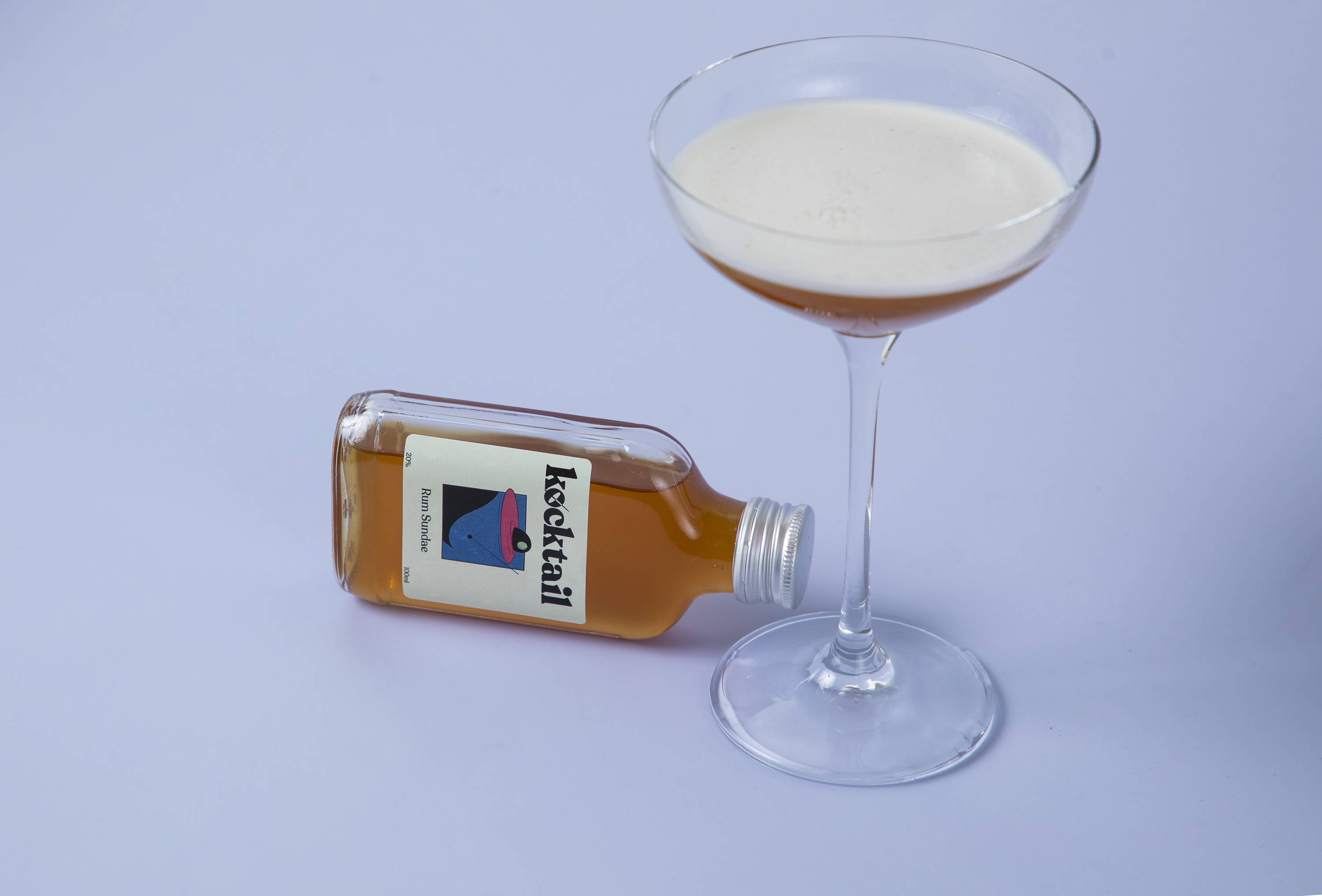 Our own, original Rum Sundae cocktail is a grown up and rather more boozy take on the classic Ice Cream Sundae.
The Ice Cream Sundae's history has been lost in the passing of time, not unlike that chunk of banana at the bottom of your sundae bowl - however it seems fairly likely that the confection was created at one of three soda shops in America. One version of the story contends that the Sundae was first created due to by-laws that stopped soda-shop owners from selling soda on Sundays, as their product was too "frilly" for the day of rest!
Another possible history suggests that a shop owner used the same soda syrup to top his ice cream but only offered the dish as a special on Sundays. When the dish soared in popularity he kept the name Sunday, with a small twist in spelling to Sundae, so he could sell the ice cream treat every day of the week.
Our Rum Sundae contains no ice cream and can be enjoyed on any day of the week but is just as much a joy as those early ice cream parlour treats!
---