FEBRUARY 2022 - What's In The Box?
---
Rose Petal Martini 
50ml lillet rose

10ml amaro Montenegro

10ml strawberry and cucumber syrup

10ml Hepple Gin

Orange bitters
Pour into coupe glass.
Garnish: rosebud  
Can be found in this month's: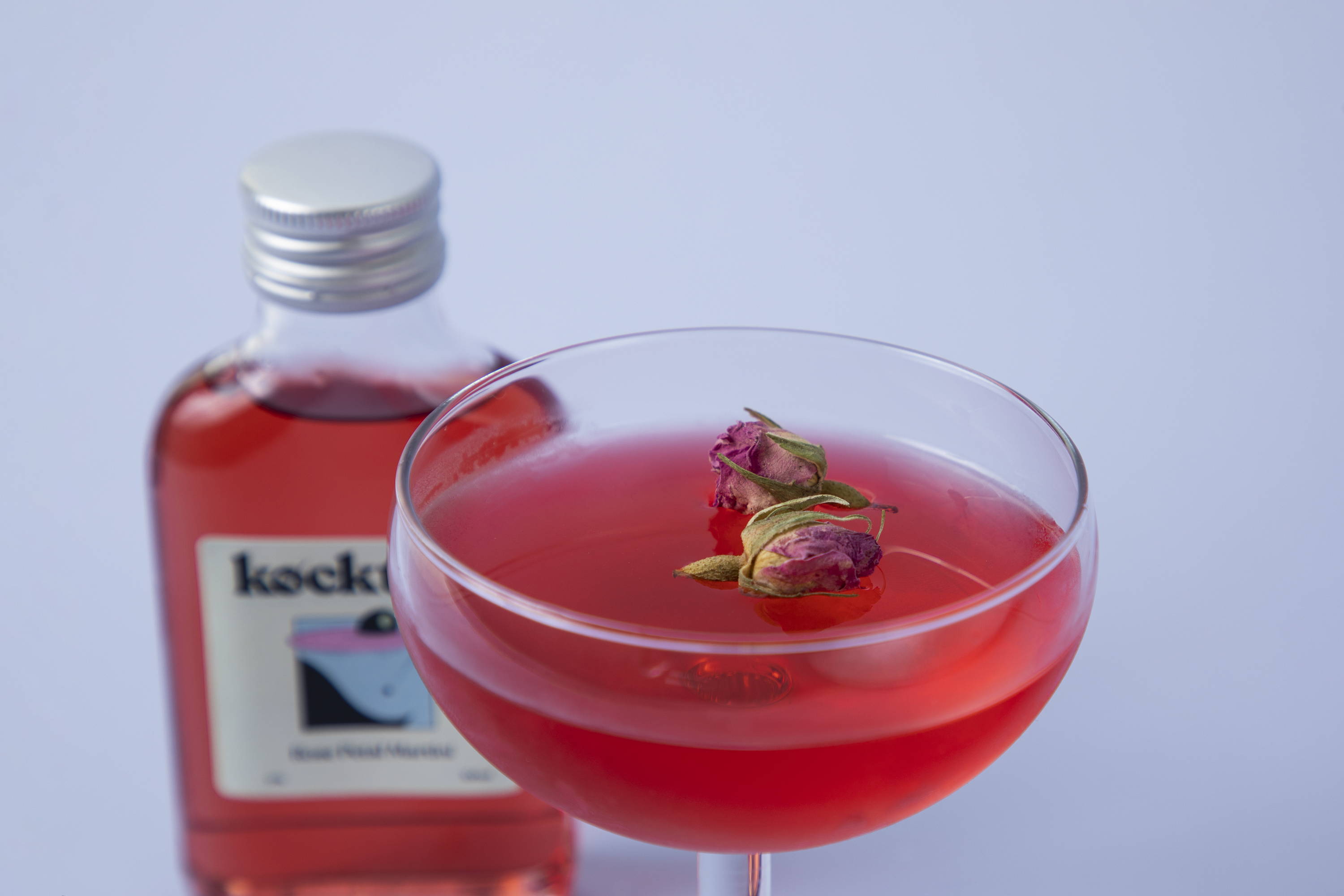 Our Rose Petal Martini is an original recipe from our Kocktail curator Neil Donachie, previously senior bartender at the world famous Savoy Hotel.
Roses have long since been associated with love. Greek mythology proffers that the first red rose grew on the ground, in exactly the spot where the tears of Aphrodite, the goddess of love fell, upon the death of her beloved Adonis.
Whilst we're not suggesting we've directly bottled Aphrodite's tears, we like to think our Rose Petal Martini, made with stunning ingredients including the beautiful French aperitif Lillet Rose, Bologna's amazing Amaro Montenegro and Northumberland's stunning Hepple Gin may just be about the closest equivalent to a love potion you will find.
---
Heat of the Moment
40ml white rum

10ml passionfruit puree

15ml fresh lime juice

10ml pineapple honey

5ml campari
Shake with ice and strain into an coupe glass.
Garnish: Cayenne
Can be found in this month's: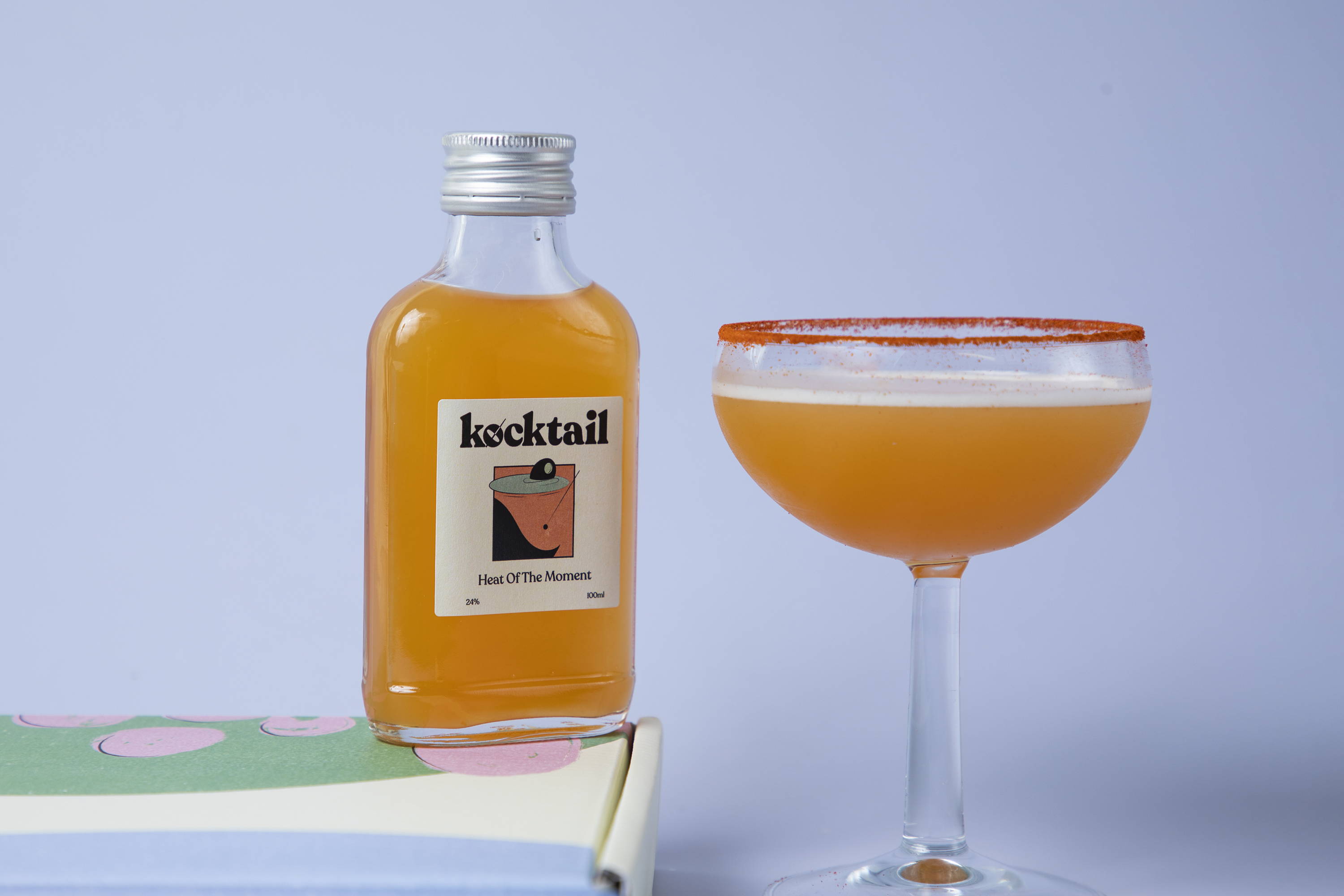 The Heat of The Moment is our cocktail curator Neil Donachie's twist on a drink called the Crimes Of Passion, which was created by Hunter Orahood during his five year tenure at the astonishingly brilliant Attaboy bar in NYC.
Before moving to the Lower East Side's Attaboy bar, Orahood was the bar manager at The Marlton Hotel, a small and reliably stylish hotel owned by one of Kocktail's favourite hoteliers, the inimitable Sean MacPherson.
Before its transformation into the Marlton Hotel, the building used to be a single room lodgings and even housed America's Beat Generation hero, Jack Kerouac for a while, whilst he wasn't 'on the road'.
The Heat of the Moment uses a base of rum instead of Tequila and a splash of Campari to add a slightly bitter orange profile to the passionfruit and lime mix.
Garnish with a light sprinkle of Cayenne Pepper and allow yourself to get caught up in the passionate heat of the moment…
---
Kissy Face
25ml Tequila

25ml fresh lemon juice

25ml briottet crème de apricot liqueur

25ml briottet creme de cacao liqueur
Shake with ice and strain into an coupe glass.
Garnish: Pink Salt Rim
Can be found in this month's: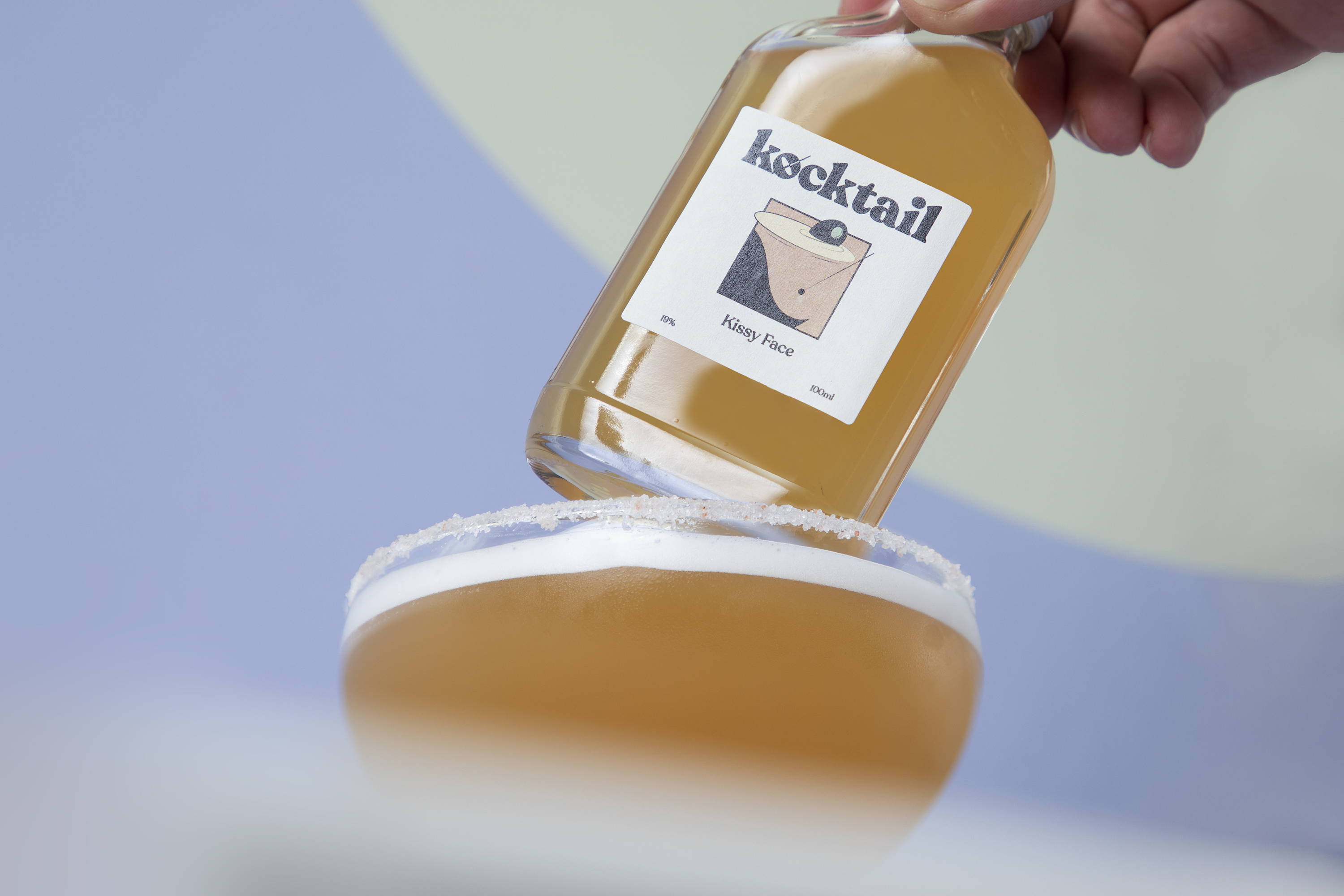 Zachary Gelnaw-Rubin has had the type of cocktail career many in the industry would dream of, despite some tough times, like being forced to shut his most recent Manhattan based bar 'Lion Lion', due to the forces of gentrification and the pandemic.
This former protege of the late cocktail legend Sasha Petraske previously enjoyed a tenure at the legendary Dutch Kills Bar in Long Island City - referred to by Eater Magazine as "Like a big Milk & Honey by a Queens overpass".
Despite its decidedly unglamorous position, Petraske's bar became one of America's finest and many of its team, including Gelnaw-Rubin went on to truly great things.
Here we present his delicious apricot and cacao riff on the Margarita - which has a rather silly name but let's face it, no one is perfect.
---
Raspberry and Watermelon Mojito
40ml mint infused Rum

25ml fresh lime juice

15ml raspberry syrup

10ml watermelon syrup

25ml fresh watermelon juice
Pour into a highball glass, top with soda
Garnish: Citrus wheel 
Can be found in this month's:
The Mojito is truly one of the classics in the cocktail cannon and as such, its history is predictably a little muddled.
The leading theory is that the drink dates back to 1586 when Sir Frances Drake was moored up outside of Havana, Cuba, ready to take the city and its riches, when a large portion of his seamen were struck with scurvy and dysentery.
A small foraging party rowed ashore and came back with local remedies for their ailments. The mix of guarediente de cana (a simple sugar cane spirit), mint leaves and lime juice formed a successful tonic and Drake left the city mostly untouched.
Fast forward to the mid 1800s and the formation of the Bacardi Rum Company - who took this traditional drink and swapped out the sugar cane spirit for their new Rum and a true classic was born.
Our Raspberry and Watermelon twist on the original is as self explanatory, as it is delicious… Need we say more?
---
Blinker
50ml Buffalo Trace Bourbon

25ml pink grapefruit juice

10ml fresh lemon juice

15ml grenadine
Shake with ice and strain into a coupe glass
Garnish: Orange Wheel
Can be found in this month's:
The Blinker cocktail is often thought to have been created or at least codified by the rather famous David A. Embury, an American tax attorney, mixologist and author of possibly the most pre-eminent cocktail tome of all time, The Fine Art of Mixing Drinks, published in 1948.
However it seems that the cocktail of bourbon whiskey, grapefruit juice and grenadine was first mentioned significantly earlier in The Official Mixer's Manual in 1934 by Patrick Gavin Duffy - a man well known for his thoughts on bartending not being a career but a trade and his rules on conversation between bartenders and their customers.
Duffy felt that the relationship between bartender and customer should be minimal and direct "without any unnecessary conversation across the counter."
It is then, not surprising to learn that the term Blinker was a synonym for a black eye in 1930s lingo...
---
Sazerac
60ml Seignette Cognac

10ml sugar syrup

3 dash Peychaud bitters

2 dashes of absinthe
Simply pour into an ice filled rocks glass
Garnish: Lemon Wheel
Can be found in this month's: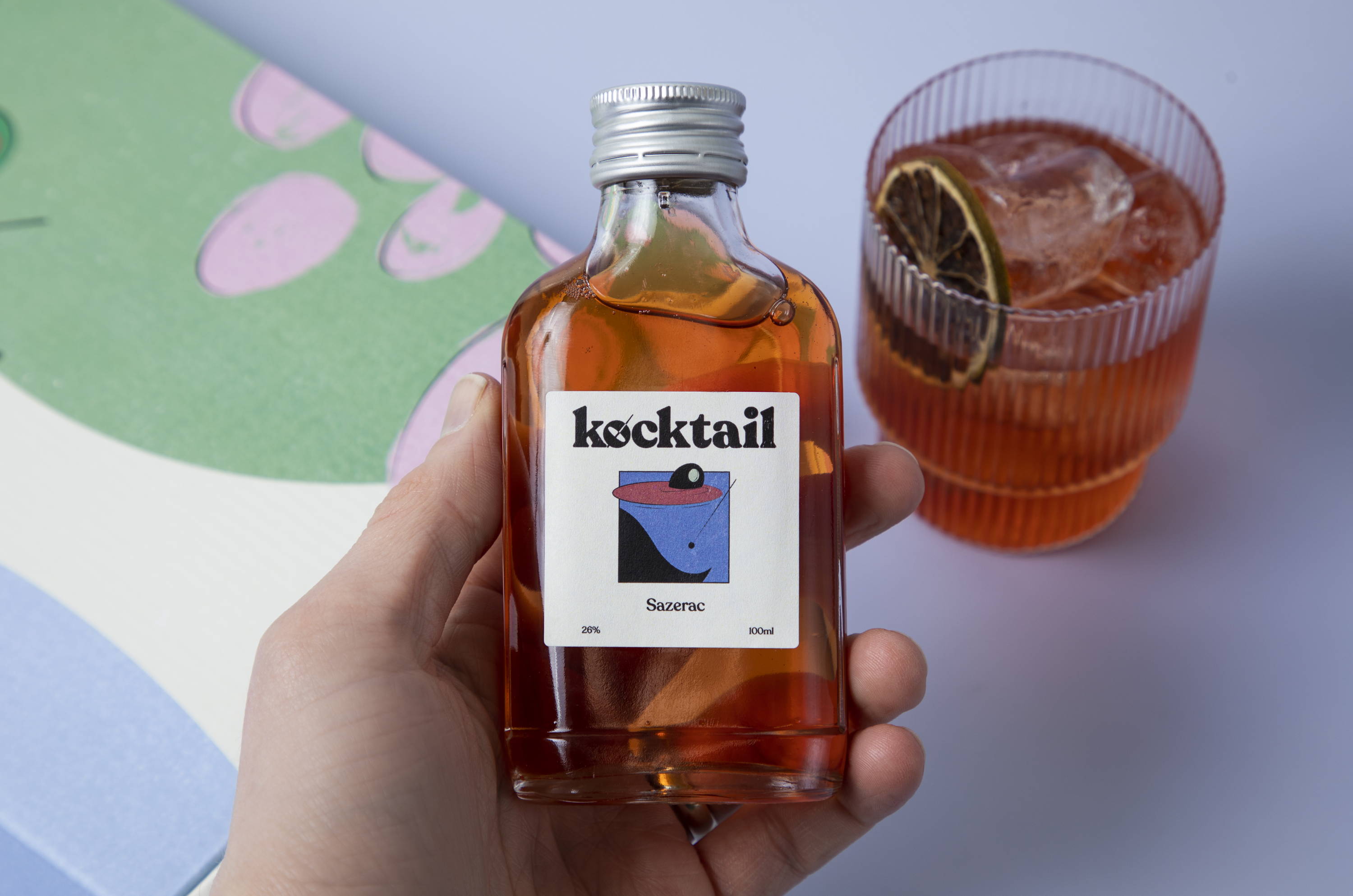 The Sazerac is one of the biggest names in cocktail history. A drink that no self respecting cocktail drinker should remain unacquainted with. So, whether you've enjoyed one before or not. We'd like to introduce you to one of the originals, the mighty Sazerac cocktail of New Orleans.
It's thought that the first Sazeracs were made with French brandy in New Orleans as early as 1838 and we do know that those first variations of the drink contained the truly marvellous Peychaud's Bitters, a vividly red coloured liquid with flavours of gentian, anise and mint, that was invented by the Creole pharmacist Antoine Peychaud in the city. PS: Its pronounced a little like Pay-Show!
This classic drink is now often made with rye whiskey but we have chosen to present the true classic New Orleans styled version with Cognac at its core.
So, as a new Orleans native may say 'Laissez les bon temps rouler'! That translates to 'let the good times roll' to you and me!
---
Black Cherry Boulevardier
25ml Buffalo Trace Bourbon

20ml campari

25ml sweet vermouth

15ml cherry syrup
Simply pour into an ice filled rocks glass
Garnish: Marachino Cherry
Can be found in this month's: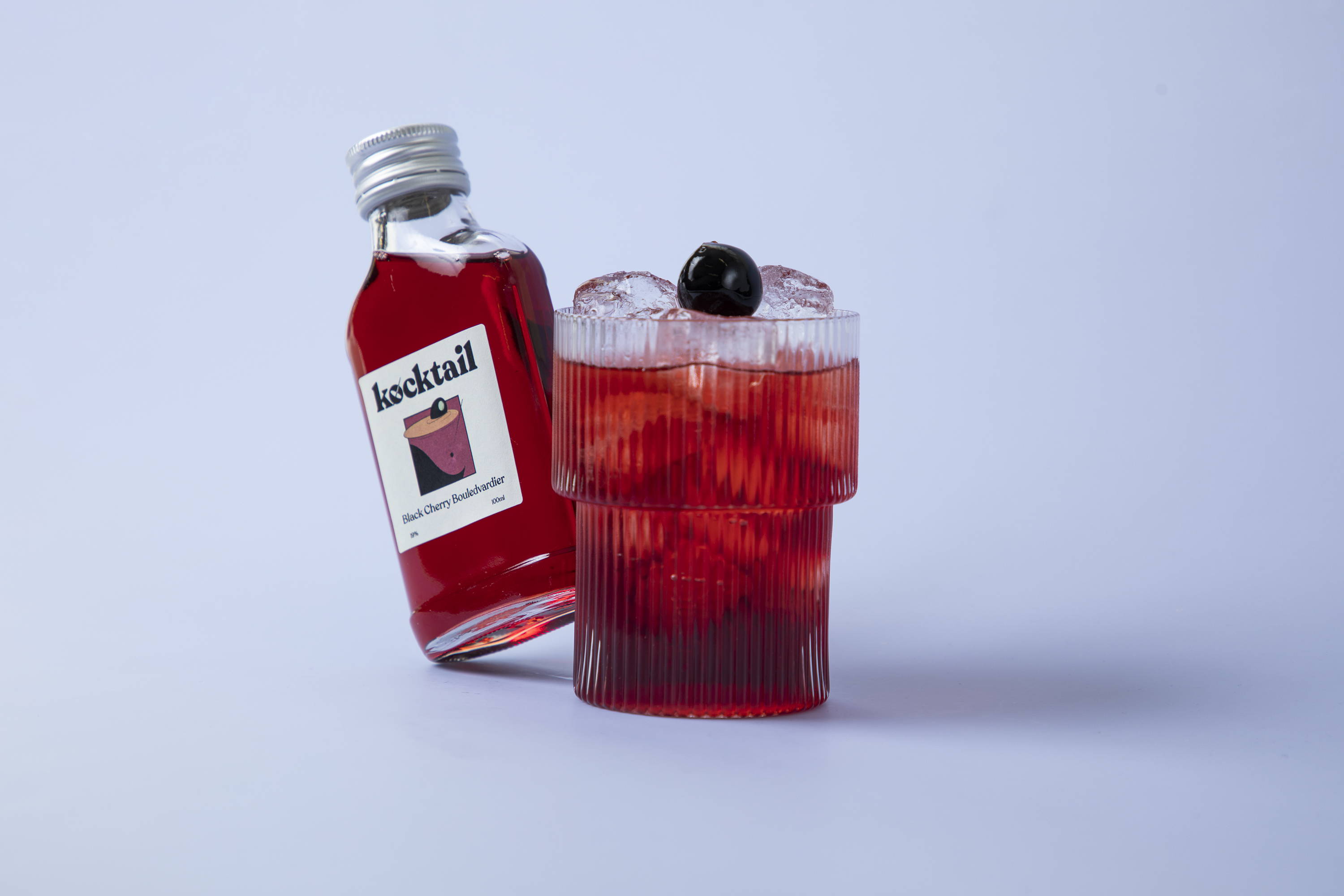 The Boulevardier was created by the publisher of Paris' "Boulevardier" magazine in the 1920s and gained some prominence after it was included in Harry MacElhone's 1927 book "Barflies and Cocktails." A crude translation from French tells us that a a boulevardier is essentially a man-about-town.
If you study the recipe you'll note that the Boulevardier is rather similar to the Negroni but with whiskey in lieu of the gin. We've chosen Buffalo Trace Bourbon to do the job - as it's kind of hard to argue with a whiskey from the world's most awarded distillery and we've added a dark cherry syrup to intensify and sweeten the equation.
In 'Barflies and Cocktails' MacElhone attributes the drink to Erskine Gwynne, the American writer who happened to be editing the Boulevardier magazine in Paris at the time and was the nephew of the railroad tycoon Alfred Vanderbilt.
---
Highland Rush
25ml Blended Scotch Whisky

15ml Aged Rum

20ml fresh lemon juice

20ml giffard banana liqueur

10ml honey syrup

Foamer
Dry shake, then shake with ice and serve into a coupe
Garnish: Lime wheel 
Can be found in this month's: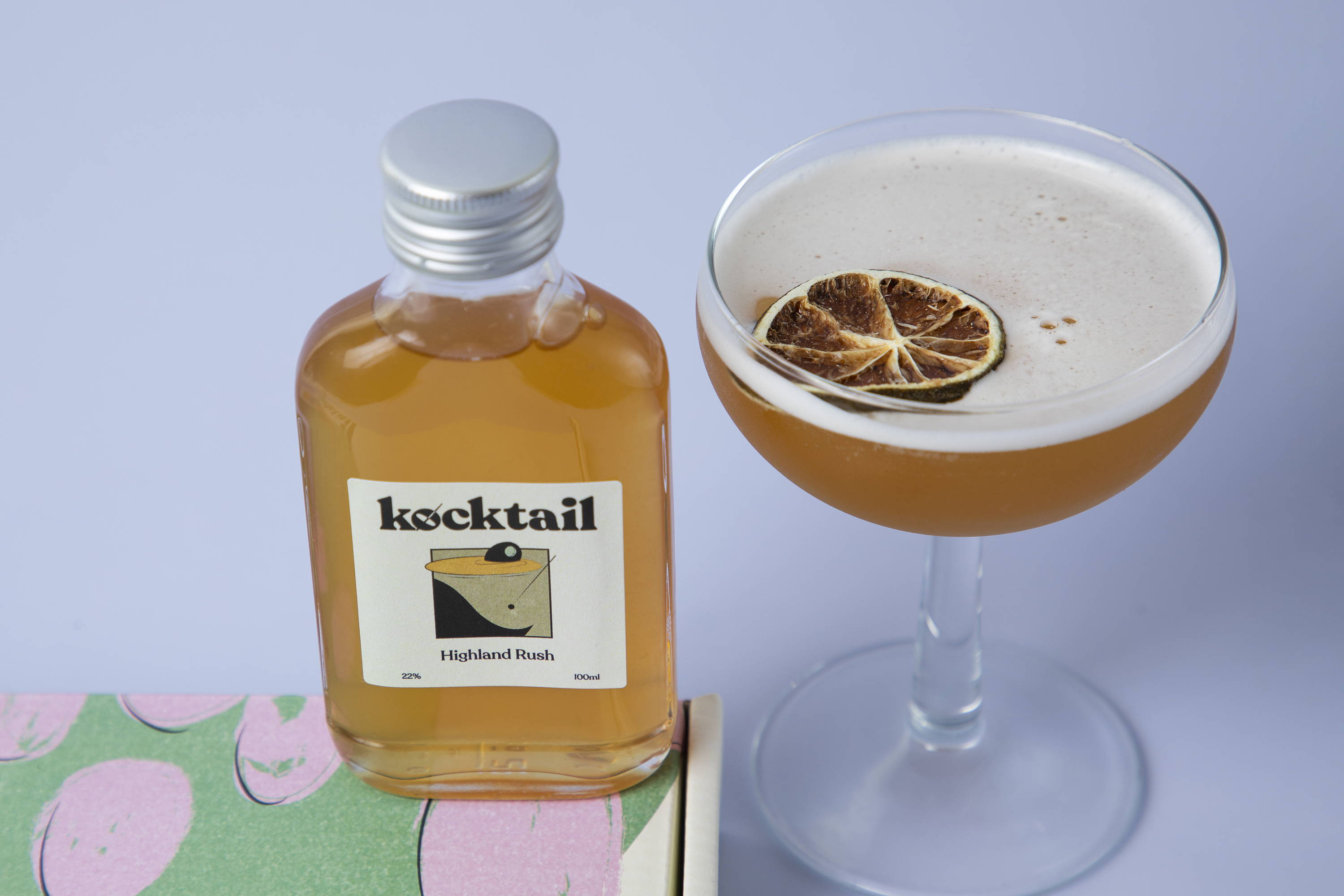 The Highland Rush is an original drink from our cocktail curator Neil Donachie featuring a double header of rich and smooth Scotch whiskey and aged rum with gently smokey and caramelised notes at its heart.
Surprisingly enough, the whiskey and banana are astonishingly friendly bedfellows and with the small hint of honey adding a floral syrupiness to the whole affair, this is precisely the type of cocktail that all of us at Kocktail HQ love to drink.
When making this drink, we'd recommend using the 'Hard Shake' method which means shaking the drink in your cocktail shaker with no ice for around 30 seconds at first. Then add ice and shake again for around 15 seconds. This encourages your cocktail to develop a beautifully silky texture and foamy head - without overly diluting the cocktail!
Trust us, it's easier than it sounds and is well worth the effort.
---